Ron Moss - Avanti TT3 - Cylinder Kit - Review & Test.....
After a recent conversation with Ron Moss, it was agreed that he would kindly send us one of his sparkly new Avanti TT3 cylinder kits for a review, dyno test and possibly some other bits later down the line (see how things pan out!). To say i was delighted is an understatement.
So last night when i got home there was waiting for me a large box from Ron, and i have to say, who ever buys one of these kits will be pleased from the outset. It sounds like a silly thing to comment on, but as you were opening the box, you really felt like you had purchased something substantial and 'complete'. The kit was well boxed up, plenty of packing materials to cushion it from the blight of the UK postal system! As it was unwrapped, i was delighted to see that not only did you get a decent kit, but you got lots of 'extra bits' to go with it.
Contents of the package as follows: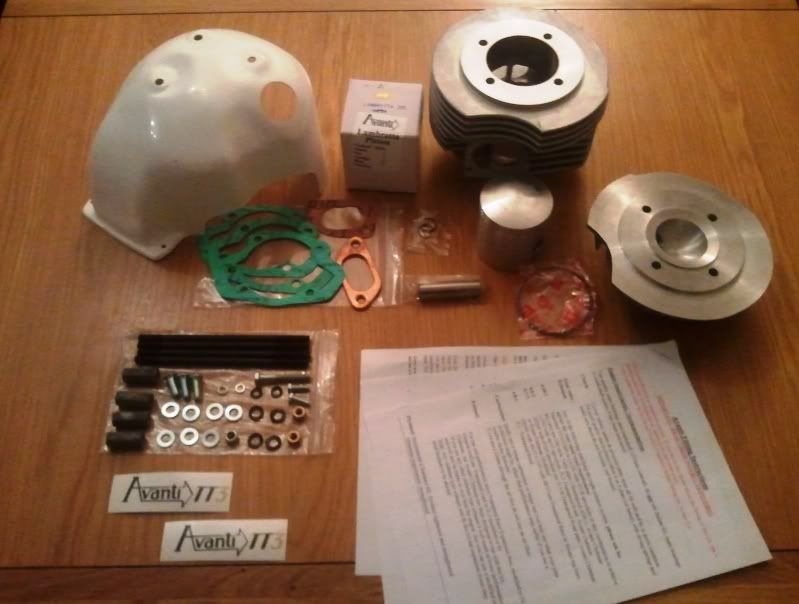 Avanti TT3 Kit Content
Avanti Cylinder Number Piston size Ring Gap
Cylinder Head
Piston
Cowl
4 x cylinder studs
4 x 8mm long head nuts
4 x 8mm flat washers
4 x 8mm wavy washers
2 x 7mm brass exhaust nuts
2 x 7mm wavy exhaust washers
1 x 7mm inlet nyloc nut
1 x 7mm long inlet bolt
2 x 7mm wavy washers
2 x 5mm bolts
2 x 5mm wavy washers
2 x 5mm plain washers
3 x 8mm button bolts
3 x 8mm plain washers
3 x 8mm wavy washers
3 x Base gaskets (0.4mm, 0.75mm & 1.00mm)
1 x inlet gasket
1 x exhaust gasket
2 x Avanti TT3 stickers
Fitting Instructions
Running Instructions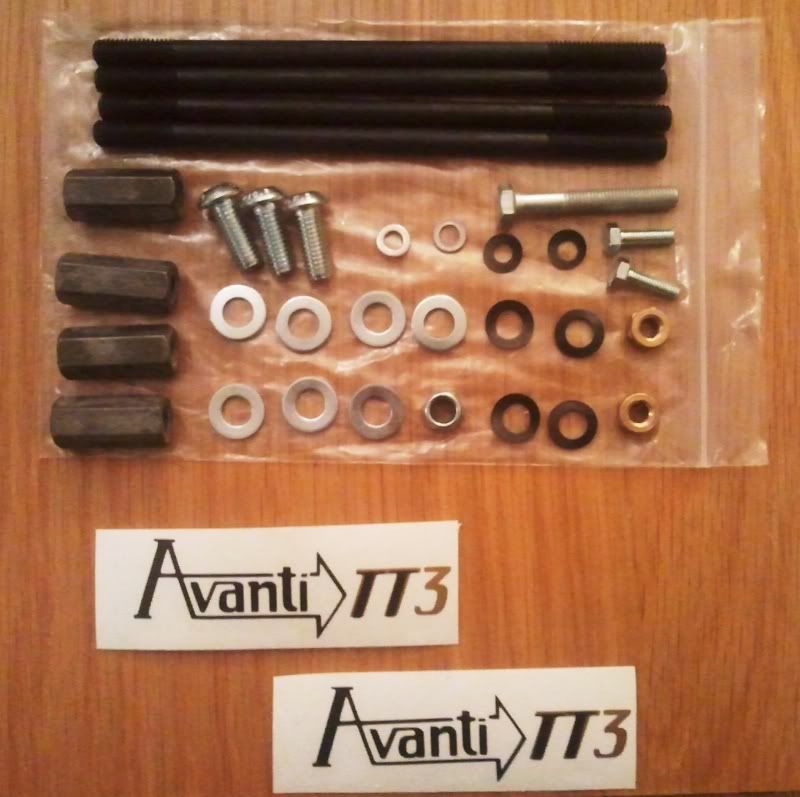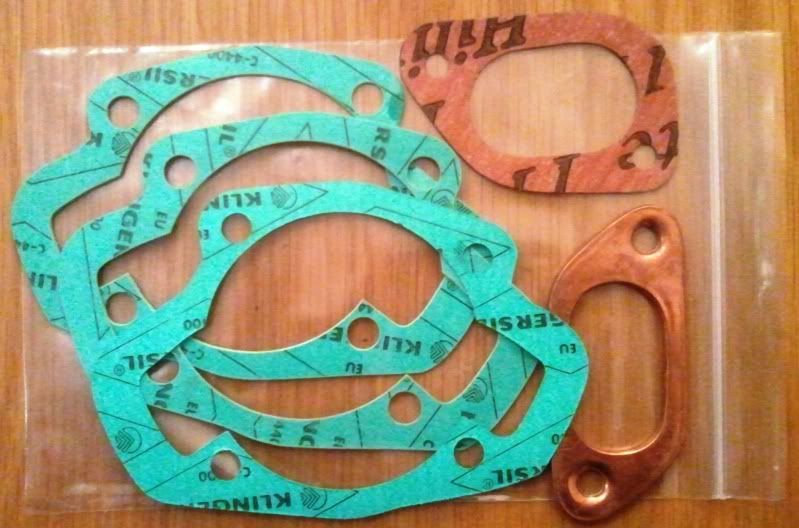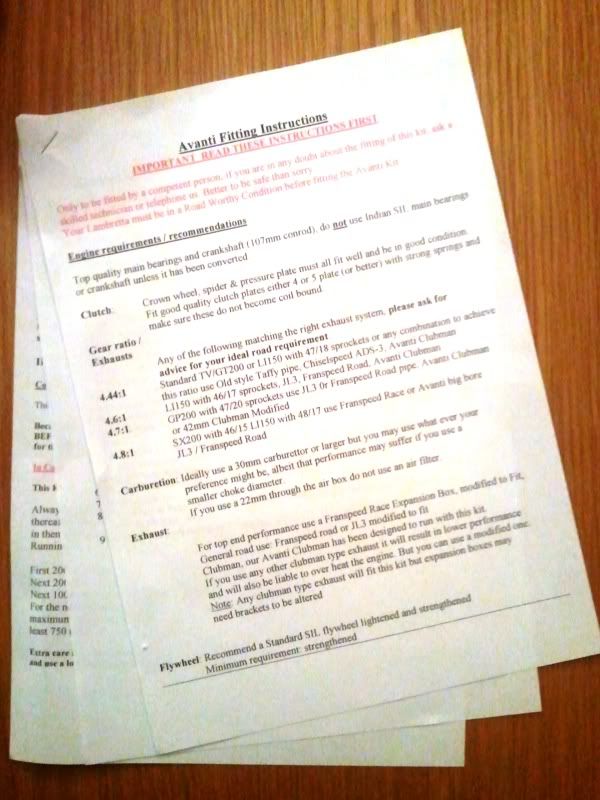 The kit itself, in its very design, just oozes thought and development from Ron. From the measurements of the ports timings/widths/areas, to the new MWO transfer port and bridged exhaust, right through to the mahooosive fin area and centre squish/side plug cylinder head!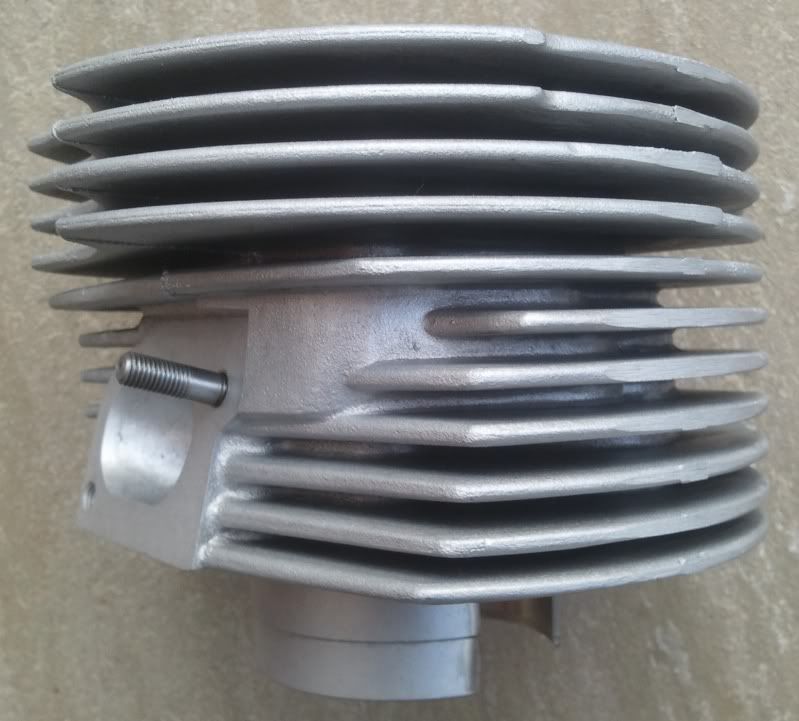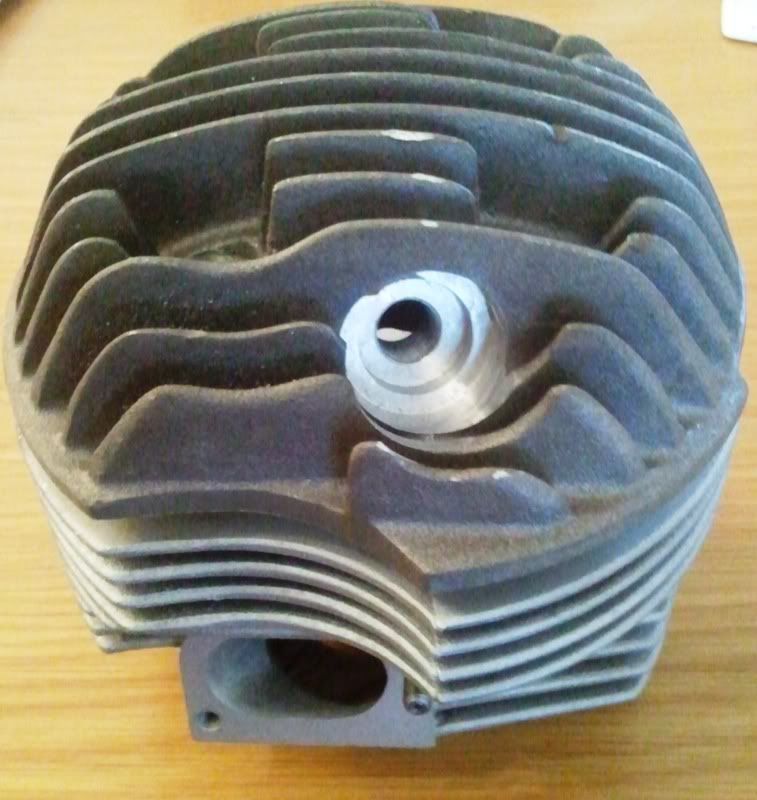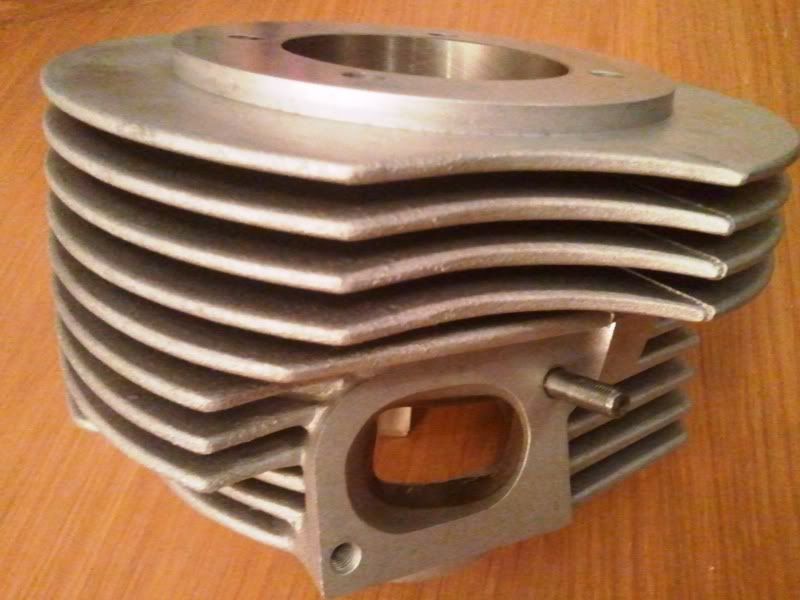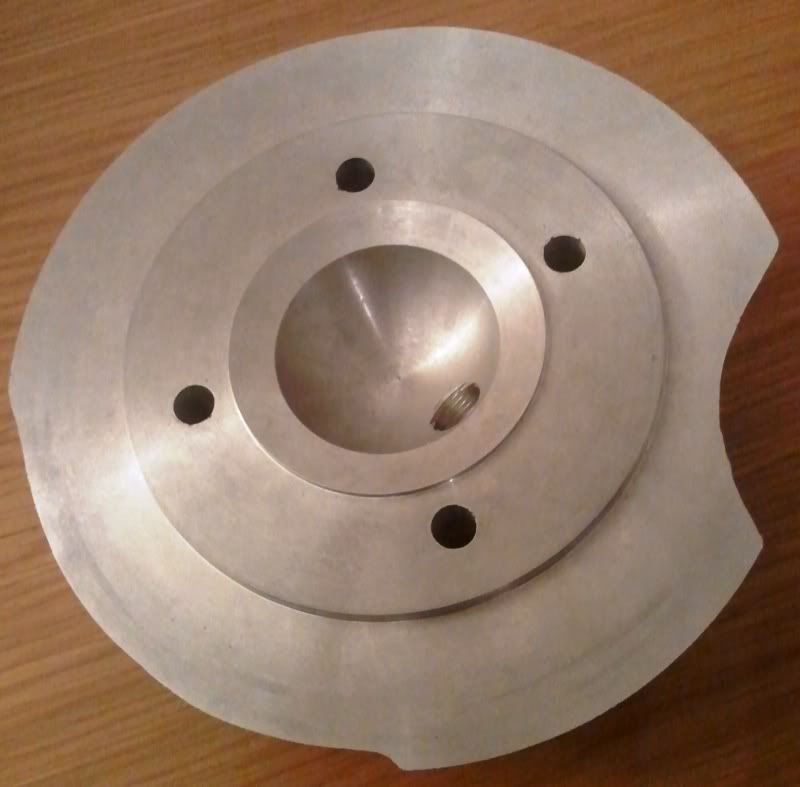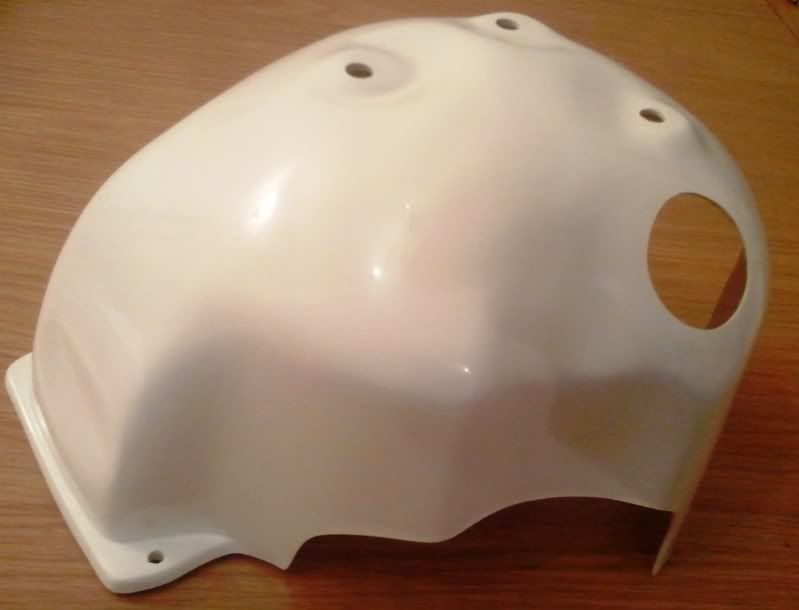 Heat and heat dissipation on a 2-stroke engine is everything, and Ron has gone all out to design something that is not only a powerful engine, but one that pulls gearing with oodles of torque, and and that keeps cool in the process. At its widest point the fins on this kit are nearly 180mm in diameter! Squeezing that into your frame is a great idea to keep cool, and the head design and all new cowl design to compliment/accommodate the size of the fins/cooling area means that (according to independent tests run at JB Tuning) this kit runs 30% cooler than any other kit on the market.
Looking inside the kit, we have a typical piston port layout from the inlet and two main transfers, however Ron has radically changed the transfer system, using effectively the well known Boyessen method to wrap feeders round the studs and allow for a 3rd main transfer port. This is revolutionary in Lambretta piston port engines. Alongside that, we have a bridged exhaust port (5mm bridge) which again is a first for a production item. The bridge is approx 5mm thick, so a decent width and is lubed/cooled by two pinholes in the piston skirt.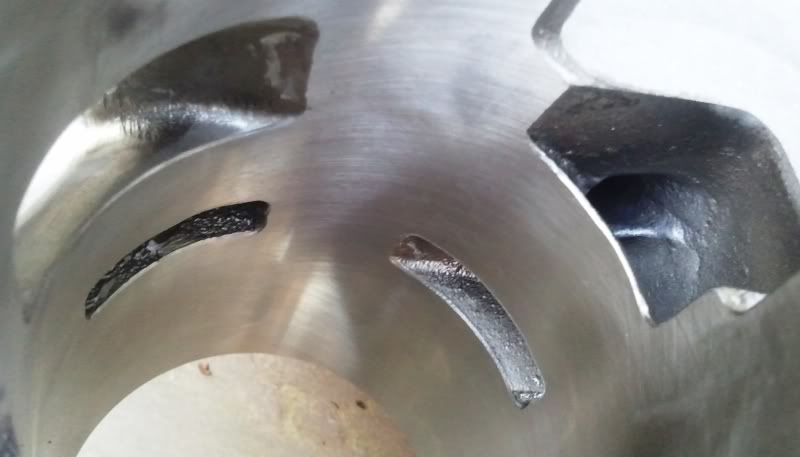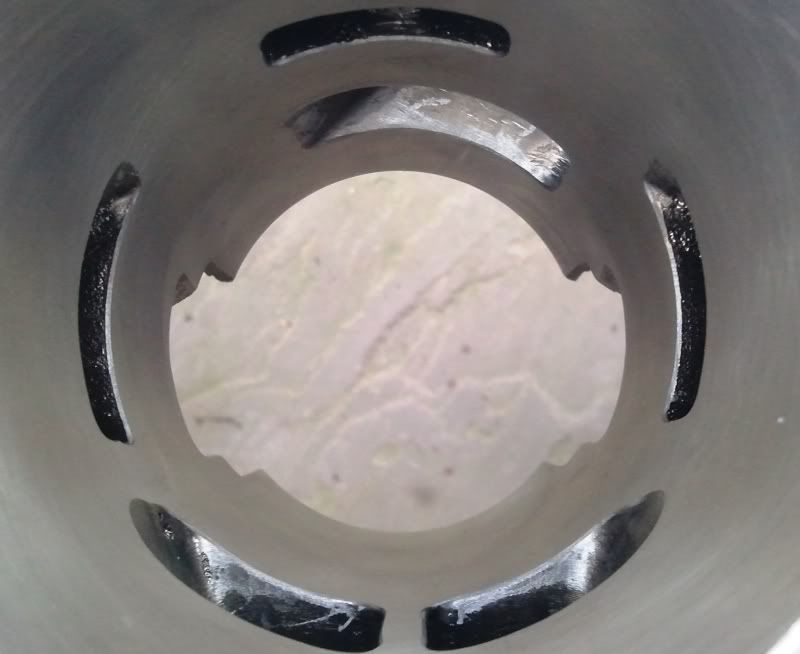 Looking at the port map below, you can see that we are looking at an exhaust port width in excess of 80% of bore due to the bridge, with low wide transfers, extra area due to the 3rd port, and nice torque/pulling power orientated port timings. See the port map below:
So with an average setting of 58mm stroke crank, using a 107mm rod, and 0.5mm deck height, you would see approximate port timings of 172 degrees exhaust, 117 degrees transfer and 159 degrees inlet depending how you set up the base gasket/squish etc. The cylinder head has a 2mm recess on it so this can be seen in the measurements noted on the map (figures in brackets are 2mm less to account for this) and on port widths (brackets figure is chord measured across actual cylinder).
So that's what we have so far, a kit, some pics and some measurements/calculations! lol
Whats next....
Next, we plan to fit the kit to Lam46's scooter (currently running a Sean Brady truned cast-iron stage 4) and get some dyno graphs with various pipes, we have a JL2, an ADS fast-road, and also a Franspeed Race pipe (which i will be doing a full and separate feature on next week) to get started with. Once the dyno graphs are complete,we will print the various graphs, and then Andy (Lam46) will be getting some miles in over the coming months and will report back to us about performance and reliability etc. Following that, i will ask Ron for permission to port n play with the kit to see what else we can squeeze from it. The largest portion of punter will be happy with this straight from the box i would imagine....but i cant help but tinker!! lol
And i could be wrong, but i think this kit will end up being one of the UKs best selling cylinder kits of all time for Lambrettas. I know that sounds like a bold statement, but it looks so versatile and has so much potential. In stock out of the door trim, it should do what it says on the tin, and pull good gearing like a freight train, it has many unique and well thought out features, and is all-in-all a quality piece of kit. Then....to follow up, i think the tuning potential is fantastic.....loads of meat to work with, lots of scope to take things much, much further and get some even bigger power out of the kit, depending where you want to make that power. Link all the positives of this kit up with the price point, and you'll see it comes in a couple of hundred quid cheaper than some other options and is somewhat more versatile.
So lets get it fitted, run up, dynoed and out on the road for some mileage, and in the meantime, anyone wanting to contact Ron for more information or to place an order, please see his website:
http://www.supertune.co/index.php?route ... duct_id=51
or phone: 07951952768