Many thanks to Steve Chapman for these, the kit looks very good! Tech talk time........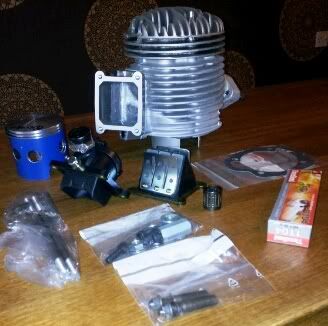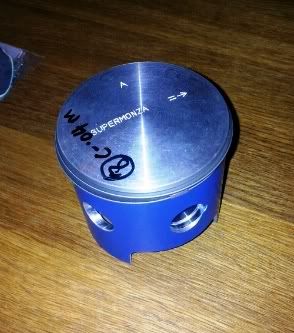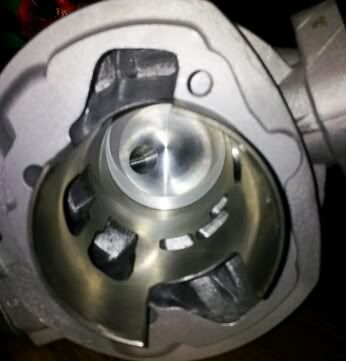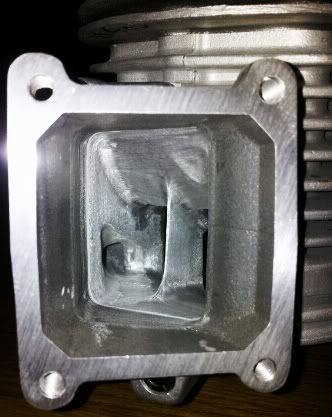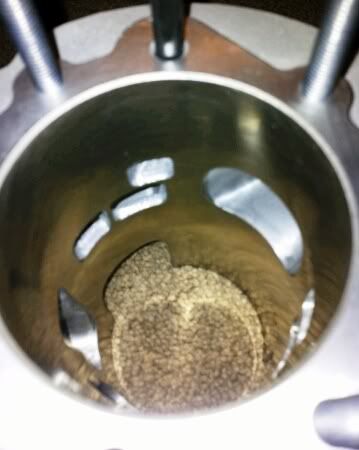 Text below in bold all lifted from CamLam Site for further info, to help answer any questions about this kit:


Q.) When will the kit be ready
Answer The hand tuned kits went on sale Saturday the 5th of November. The production kit will follow very soon, we expect they will be readily available by the end of the year.

Q.) We are often asked how much the kit is.
Approximate costs :-
Kit :- £695 in standard trim, £795 in Ultimate specification.
Exhaust :- £750 full works, £525 Italian version
Carb :- £150.00, the kit works on a Dell'Orto PHBH, or VHSH. If you have on of these carburettors already, we can modify it for use on the SuperMonza
Varitronic £350.00
Crank £395.00
Clutch £190.00
Bearings, seals, chain, guides, specialist loctite, and other sundries £200 to £300.
Factor in gearbox, fitting and other things your bill will be a minimum £2000

Designed and Developed by Charlie Edmunds, five times BSSO champion, engine designer and out and out two stroke specialist
All suggested parts must be used, as the kit has been specifically designed from start to finish with specific components.
There will be a small amount of options for the kits.
Further levels of performance Tuning will be available via Charlie Edmunds and Cambridge Lambretta
ALL Cambridge Lambretta and Performance Tuning supplied kits will be hand checked and signed off by Charlie, to ensure exact specifications are meet.
Both Cambridge Lambretta and Performance Tuning supplied kits will be individually catalogued and detailed to offer our customers full support and back up for all kits and components supplied by us.

You will need the following components
30mm PHBH PowerJet Dell'Orto
Super Monza Kit
Ultimate Super Crank 58mm stroke 116mm rod
Ultimate Varitronic Kit
Choice of two exhausts, Super Monza or Ultimate Monza exhaust
Ultimate Bearing set
Specific sprockets, chain, guides and sundry parts will be required.
As well as the basic requirements above, optional but highly recommended parts will be needed, such as full spec bearings, clutch, sealants etc.

The Super Monza will not work with any other components, it requires the level of adjustment and strength given by all parts listed.

The Super Monza is the first total solution engine ever to be built from start to finish with one thing in mind. Non stop performance from the moment you open the throttle, the torque delivered by this engine is second to none, and provides levels of performance never seen from a Lambretta engine.

Every part of the Super Monza kit has been designed and developed for maximum power, whilst retaining excellent reliability because of the way it delivers power. Many tuning shops, home tuners and kit producers can often claim high horse power from their engines, this is relatively easy to achieve, but the Super Monza delivers the following :- Sub power delivery is strong at 20 BHP between 4,000 to 5,500 rpm. Main power is delivered at 5,500 to 8,000 rpm at 30 bhp. The torque line between 5,500 to 8,000 is completely flat at 20 ft lbs.

As mentioned the Super Monza is a total solution kit, it requires every part of the engine to be detailed in every way, and as such it is not considered a bolt on kit. It must be used with all suggested components and there can be no short cuts on any thing

From the moment you decide the Super Monza is the kit for your Lambretta, we will work hand in hand with you detailing every specific part you will require to build your engine. From carburettor, to the crank, from the Ultimate Varitronic to the specialist bearings, to the expansion, all parts of the engine will be vitally important as each other.

Fitting of the kit should only be carried out by the most experienced tuners or mechanics, THIS IS NOT a simple bolt on kit.

Fuel 97 - 98 Octane Super unleaded is ideal for the best performance and reliability. Oil - Silkolene Pro 2 fully synthetic or Castrol Race fully synthetic. Ratio 30 mls to 1 litre of petrol. Spark Plug BR9ECMVX racing or BR9ECM Standard
The Super Monza kit must be fitted to exact tolerances and specifications as laid out in these instructions. Failure to follow each and every detail will result in serious damage and or destruction to your kit and engine, and will void any warranties given or implied. This kit is not a simple bolt on kit, and if you are in any doubt as to the difficulty in carrying out all our instructions to the letter, we strongly advise having the kit professionally fitted.

Unlike any other kit before it, each and every single detail, component and part has been designed to work as one, to give you unrivalled performance and reliability. Certain aspects of building your engine have come from years of development in tuning and racing, they are done for a reason, they work and do not fail and must be followed.

Each Ultimate works kit supplied by Performance Tuning or Cambridge Lambretta has been hand checked and blue printed by Charlie Edmunds. Furthermore we use upgraded parts from the factory kit, and carry out many in house modifications to improve your cylinder kit, which we suggest are a not only a worthwhile upgrade for maximum performance, but also a must to retain the strength and reliability of the kit. If you have purchased the standard factory kit or a kit from another dealer, we would urge you to check and or change the following items. Base gasket, cylinder studs, inlet studs, exhaust studs. Most factory kits will be sold to scooter dealers, and the onus is on you or them to build the kit correctly with upgraded parts. During manufacture and supply from the factory, in our opinion certain parts are not of adequate quality to be used. If you use the factory kit with the parts supplied, you do so solely at your risk.

Building your engine and kit.

As we have mentioned, years of racing and building high performance engines have seen & proved the way Performance tuning carried out all development work on this kit. We provide comprehensive instructions with all kits sold via us. If you have purchased your kit from a different supplier, you should take note of the follow :-
We drill cylinder stud holes deeper on casings as the Super Monza creates so much torque; the normal amount of thread found in the casings will not cope with the forces produced by the engine. Failure to carry this out will quickly lead to the threads stripping, and premature failure of your engine.
At minimum the casings must be blended to the cylinder. There is enough material in almost all casings to do this without the need to add material by alloy welding. It is vital you use a good quality base gasket (supplied in all ultimate kits). At the time of writing these instructions, with factory supplied kits the gasket is not adequate and will fail to seal.
Ultimate Super crank is the only recommended crank. If you insist on using other manufacturers crankshafts, you must weld the pin, otherwise failure will occur. Crankshafts for the Super Monza are 58mm stroke, with a 116mm length conrod.
Ultimate Varitronic (this is welded to cope). Do not use any other ignition system what so ever, as this complete kit is designed to run with the Varitronic ignition curve only.
Ignition setting at 1500 to 1800 rpm : 19 Degrees (Maximum 20) Note : This engine does not require a lot of advance at peak power values as it makes its own heat, and does not require advance settings to make power....!!!! You have been warned DO NOT use more advance!
Super Monza Gear box : TV200 on 16/47 touring or 15/46 normal : Li 150 (NOT Spanish) 18/47 for top speed, 17/46 for normal use : GP200 (Indian manufactured NOT recommended) sprockets advised are 20/47.
Clutch, six plate
Bearings, we use different full load bearings from standard Lambretta. The magneto housing is modified to run petroil lubrication to the mag side bearing.
Use Loctite 243 on the long cylinder studs and two short studs that go into the engine casing.
Gasket sealer is required on the reed box to cylinder gaskets; both sides, and the head gasket face. Only THREEBOND is recommended.
Cylinder head nuts, M7 x3 torque to 14 - 16Nm
Cylinder head nuts, M8 x4 torque to 24 - 26 Nm
Normal Squish clearance is 1.1mm (maximum 1.3mm)
DO NOT go over or under these figures under any circumstances.
Use LOCKTITE 270 on the 2 M6 reed box to cylinder Hex screws. Very Important!! :- Torque wrench settings 10 Nm
Two small K nuts on the exhaust side of the cylinder. Use ONE drop of loctite 243 on the nuts, then torque to 14 - 16 Nm
Exhaust stub M8 nuts use loctite 243 and torque to 22 - 24 Nm. Use high temperature silicone sealer both sides of the exhaust gasket!
Piston ring clearance minimum 0.30mm. Piston to bore clearance when new 0.04mm. This is all pre checked on Ultimate / works kits.
Carburettor - VHSH or PHBH, both must be power jetted. Both types of carburrettors are highly modified to run extreme flow rates.
Exhaust: The Super Monza Ultimate exhaust is used for maximum power, and durability. A factory production exhaust is available, it is made in Italy, but at present we do not support the use of this exhaust.
When fitting the engine to the frame special attention should be given to the clearance between the reed box and the left hand engine mount lug. SIL case in particular suffers from being rough cast here, and the RH side of the reed box could fowl the lug. To avoid the reed box should be machined or ground to give more clearance. This is always done on the full Works Ultimate kits. The rough casting, and maybe a small amount of material will need to be machined or ground to give additional clearance.
Offset cones are highly recommended to aid clearance from the frame. If using a shock absorber over 305mm then this is a must.


And finally........
Should you wish to contact Cambridge Lambretta or Performance Tuning, you must quote your cylinder kit number when seaking technical advice, or when ever you are ordering spare parts for your kit, as this entittles you to discount. At the time of purchase we will be happy to discuss all modifications Performance Tuning and Cambridge Lambretta suggest with full spec Super Monza engines. This has been designed to give you the ultimate reliability and enjoyment from your engine. Whilst we have provided these instructions for you, and we are happy to give advice, please bear in mind if you have purchase your kit from any other dealer, you must contact them in the first instance. We are not able to teach you how to build an engine over the phone or e-mail. We do offer full build service for any engine, standard or performance.