As some of the longer-standing forum members may remember, in 2008 we built a Scooterotica TS1 Group 6 race scooter for the BSSO race meets, it was (as always) just a bit of fun on a shoe-string budget. For those that are interested the article is here:
https://sites.google.com/site/drunkmunk ... ckracerts1
Now when we put the engine together it was little more than off the shelf parts, no welding, built well and mildly ported for a fast-road tune. We squeezed a respectable 31bhp out of that set up with really very little effort.
Pics of cylinder: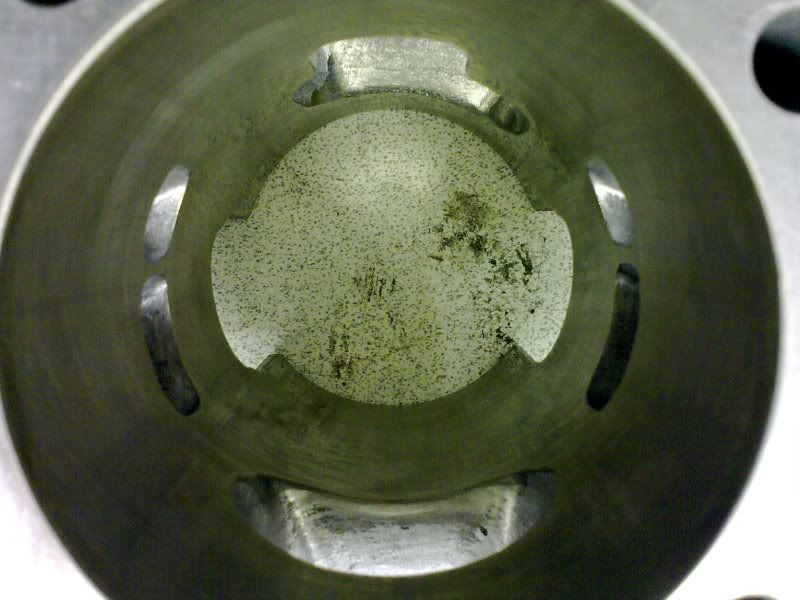 In 2009 though i broke my leg at 3 sisters race track so the racing got shelved for a while, and then in 2010/11 (due to personal circumstances) i had to shelve pretty much all scooter activities in every capacity.
However, as 2011 comes to a close, things are about to get seriously back on track.... literally! lol. As of next week the dyno will be open to take bookings Mon-Sat for anyone that needs any dyno tuning work:
http://www.scooterotica.net/page4.htm
and the scooter workshops will be open for appointments to take on engine builds and tuning work:
http://www.scooterotica.net/page5.htm
but in relation to this article, we will have have 2 x Scooterotica 'Special' scooters out and about. My TS1 Li Special will be a road going rally machine, that will also be entered into the BSSO street class and possibly some of the sprint meets.
This one:
Alongside that we will have an RB22 based sprinter that will have a balls-to-the-wall porting job for full on screamability! lol
Start of project:
Now as far as the engine goes for the TS1, i thought it was about time to start playing a little more, so i measured out some specs with Sean, discussed a few ideas and options and then worked with Mick to get some porting work put together, as you can see here, we have left the exhaust port untouched from the last tune, and concentrated solely on the transfer/boost area to see what we can tease out of the cylinder. We will also be switching from a Mikuni to dellorto 34mm flatslide, changing the Yam reedvalve with dual stage reeds for a V-force block with matched Jimmers manifold. We will also we dropping the fan cooling, running a smooth flywheel and an MBD air-cooled head.....all this for road and race!! lol. The only difference between track n road might be pipe and gearing. We just want to push the cylinder and work it hard to see how much hammer it can take.......i'm gonna enjoy thrashing this bad boy! lol
Here's the story in pics:
The goods: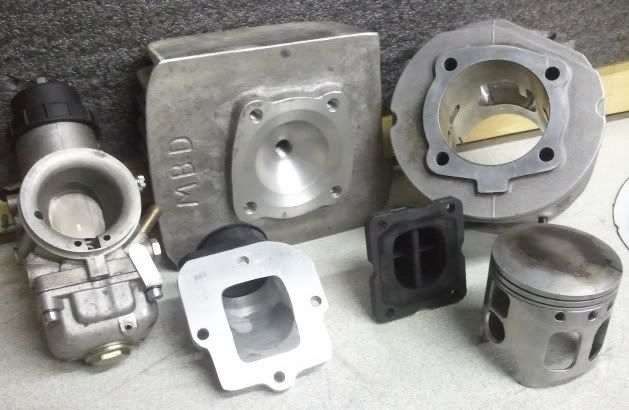 The new boost port, and enlarged transfers (exhaust side):
The new boost port, and enlarged transfers (boost side):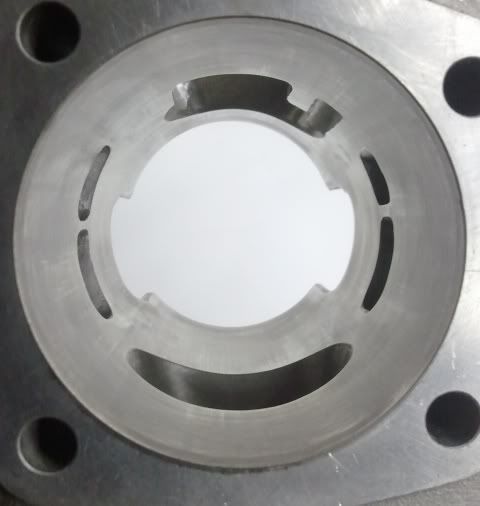 You should be able to see from the above pics that we've managed to get quite a bit of extra area on the secondary transfers, on the larger stud spacing side the secondary transfers and nearly as big as the main ones. And on the closer stud space side we made up the difference with the extra boost port (a la RB)
The next thing to look at was the piston. I run an MB piston, and in this case i wanted to lighten it, so after careful measurement we trimmed the skirt.
Piston side: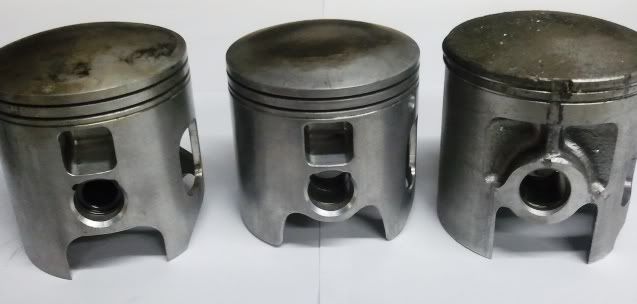 Piston side: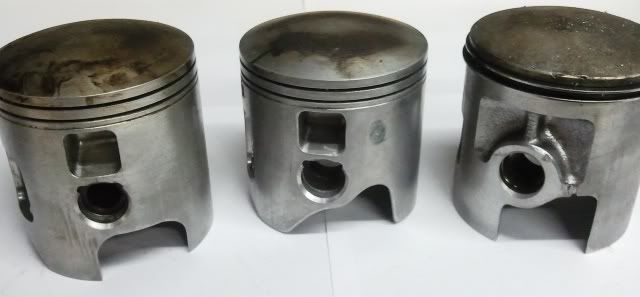 Next thing to look at was how the gas flowed through the side cuts and up the transfers. At BDC the gap/area was at its smallest and so we looked at other Lambo pistons to see how we could open the piston up a little. See how we opened the area up below.
Cut down piston skirts: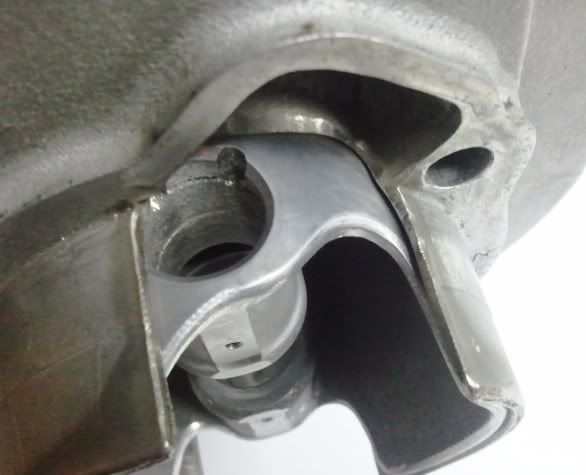 Standard skirts: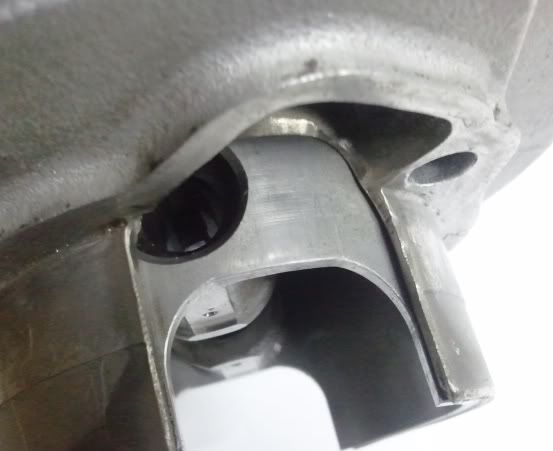 Lastly, Sean has discussed this with me on many-an-occasion.....Vespa style piston tuning. Its something i've wanted to try before so we went half way on this one for now. In this instance, you can see that we inserted 3 holes to match the boost ports, by comparison see the Mallossi 166 piston. We do at some point intend to try the 'side cut out' and match to boost ports in the transfers, but we want to see what we have with the existing work.
Piston front: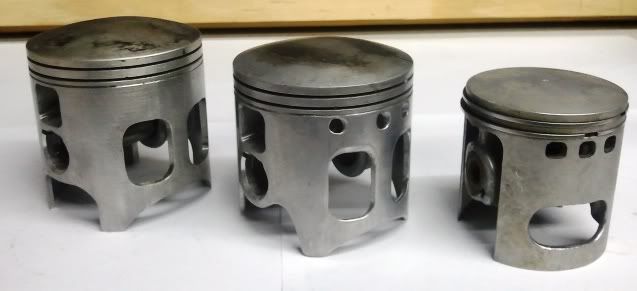 Piston holes to boost/reed: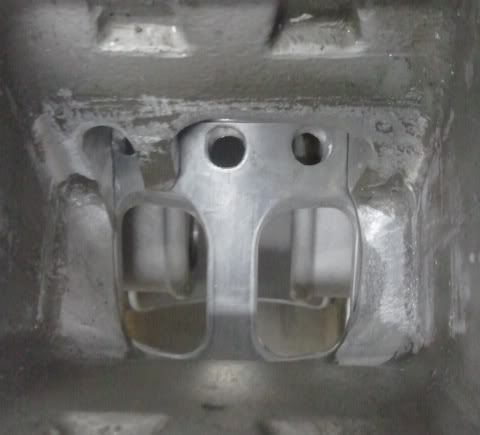 This setup will be run with an MBD LPC crank 58/110, and we have a NK road and race pipes to try, as well as a Franspped race....although i think the tunes length of that maybe to long so we will possible cut a small section out of that so we hit peak power at the desired RPM range. The head is air cooled, and is low compression, and we will have and m-tech ign unit running from approx 18-11 degrees.
Power output? Cant say until the pipe is finalised, but somewhere in the region of 34-38bhp at the back wheel on a low reading dyno! ;o)))
There is of course still much more that we can do on this engine, well....loads in fact, but we want to do things in stages so we can monitor our progress. Other than the additional Vespa piston tuning Sean will do, see here where he discusses the side ports:
http://scooterotica.org/forum/viewtopic ... 518#p37518
pics of side ports on vespa vs non-ported Lambo: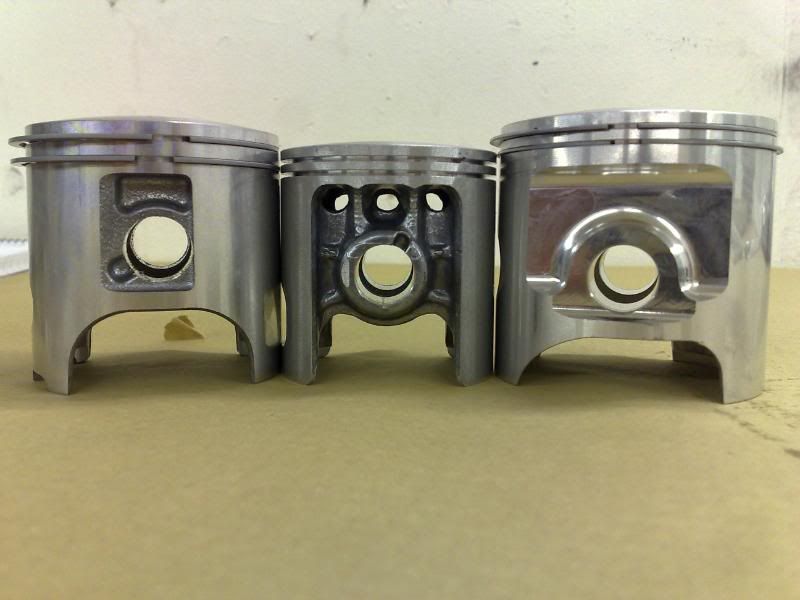 A couple of examples of what else might be trialed (just because we like to!! lol) is this style of crankcase porting: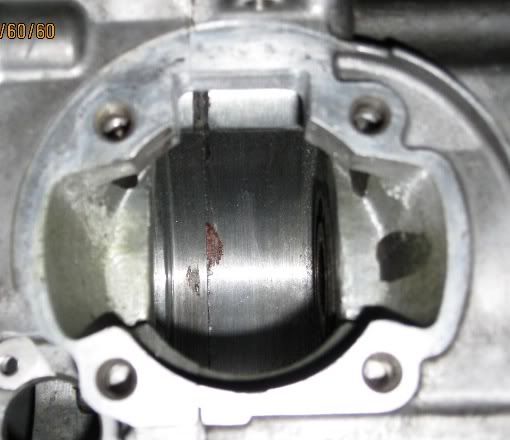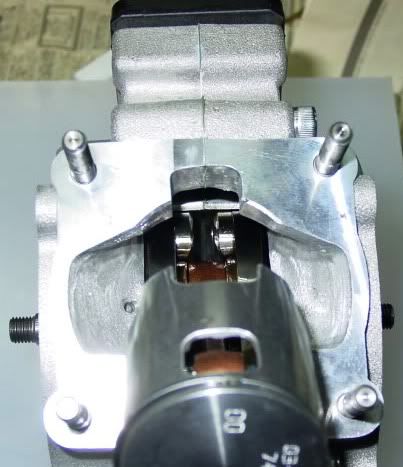 In this instance the illustration shows crankcase induction porting under the cylinder studs to make use of the boyesen style induction, and there's no reason why a similar style cant be run on a Lambo. No welding is needed, just a carful hand to run a slim finger-port at the bottom of the inlet/reed area in the cylinder, and match that to a slim finger-port that runs down the back of the inside spigot area in the crankcase mouth and under the cylinder studs, to join the main transfers....!





But that's for the future, 34-38bhp is enough for now, and then we can monitor clutches, gearboxes etc until we need 40bhp+



Bring on the sprinting!!