Some of you will have seen these at some point before but here goes.
I bought my 50 special in 1981 from a lad in Crowland near Peterborough.I'd just turned 15 and gingerly rode it 30 odd miles back to Holbeach with my mum following behind in the car
...until she got bored doing 27mph and left me!!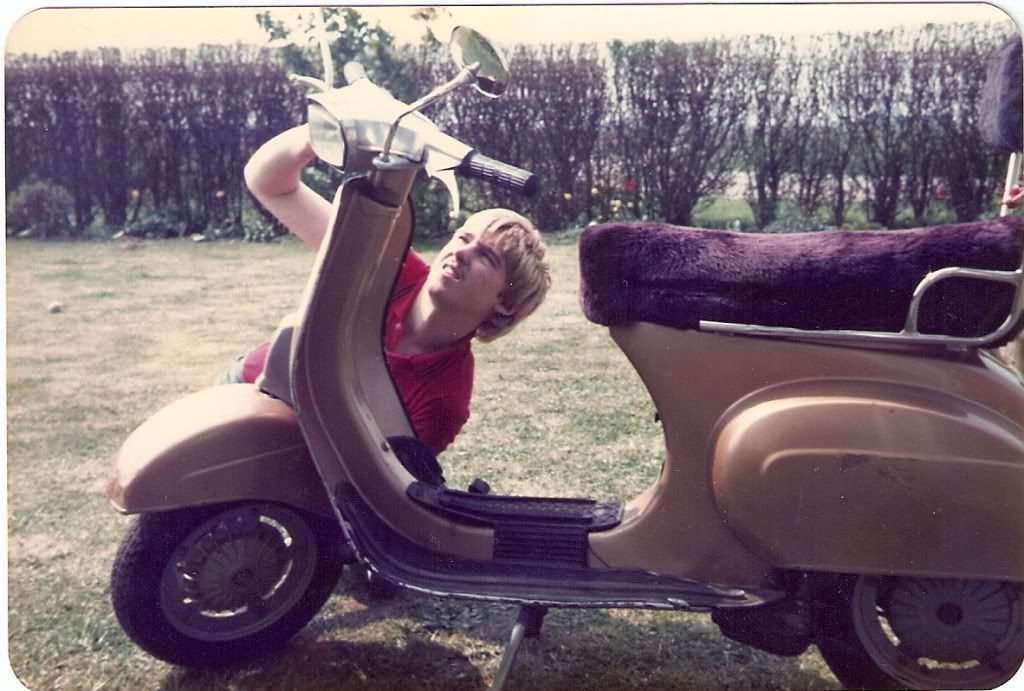 I soon dumped the bling and the furry seat cover

and more or less got it how I wanted it when I was old enough to ride it legally.
A few months down the line and I swapped the engine for a 90cc one bored out to 100 cc with a skimmed head and a Sito? Galaxy exhaust. It would do about 40-45 bit would power wheely very easily.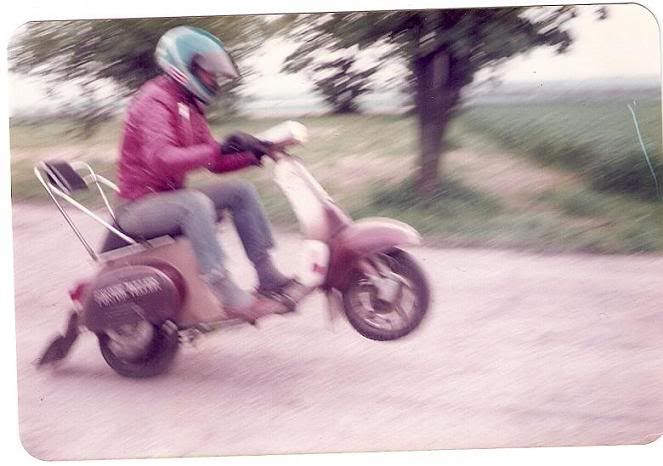 1983 and I'm nearly 17 and I'm now living in Doncaster so I buy The Eliminator. Apparently it belonged to one of the Scunny Pathfinders at one time but I can't verify that.By the time I got it, it had an LI 150 engine in it and was very reliable.I had a ride to the Newark do in 1984 but didn't go in. My then girlfriend wasn't to keen on the scooter scene so I didn't get out on it much

It sat in the garage until mid 1985 when I sold it for £200.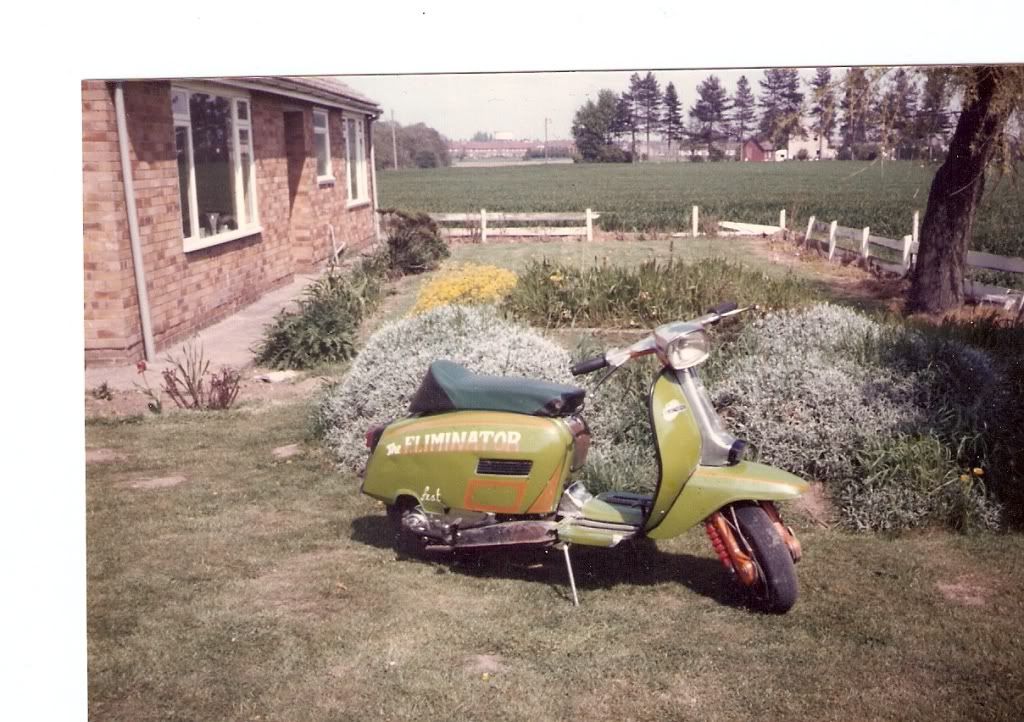 Jump forward 20 years and a bloke at work has bought a Lammy resto and I over hear him talking about it.The memories come flooding back and I want another GP. I bought a copy of scootering and nearly fell through the floor when I saw the price of Indian G.P's!!!

So I bought a brand new PX 125 with Corsa seat and Scorpion exhaust for £2300 from Midland Scooter Centre.
I was dead chuffed with this scooter until.......I went to the Donny Hunters do a few years back and saw some of me old mates for the first time in 20 odd years. Craig Standeven, Andy Moss and Trev Green. I joined the Hunters complete with Vespa!! but it wasn't long before I wanted a Lammy. I bought this off E bay for £1300. With a little bit of fettling it proved to be a reliable daily ride.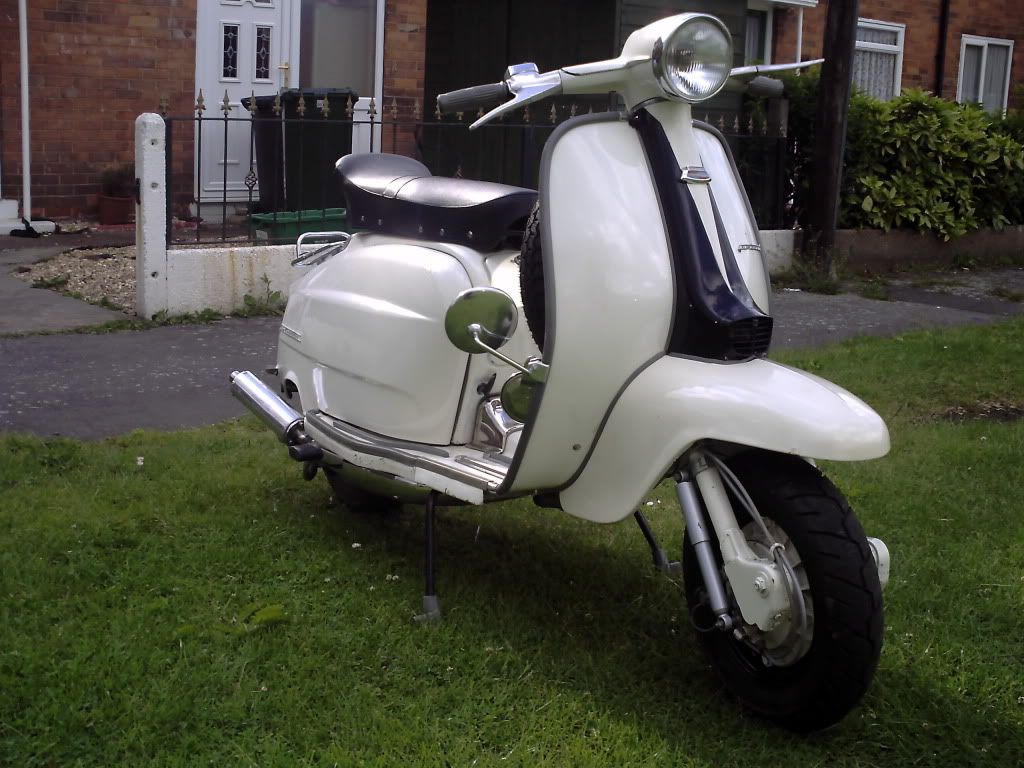 In the meantime I see a little runabout that would do while I tidied the LI up and I could hang on to it for our Holly when she gets to 16. I loved this little ET2. It was derestricted and went like stink until some scroat pinched it from outside the house, while we were all inside...and it was chained up.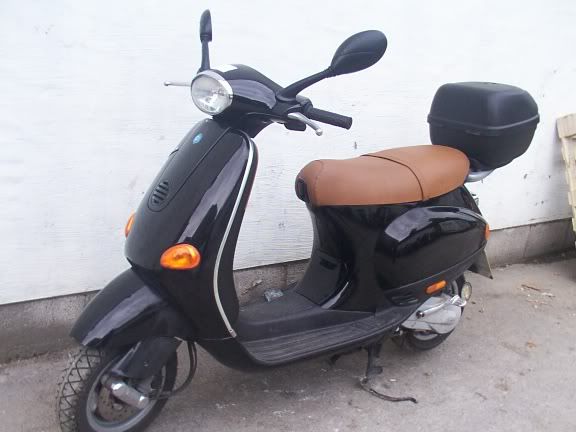 Moving swiftly on and the LI needs a bit of TLC. After weighing up all the options I decide it's time to let it go and look for what I really want..A GP 200.I saw this on Sundarscoots website and loved the colours and knew that it wouldn't take much to get it how I wanted it.They swapped the seat at no extra cost and I added the stripes and sprint rack.I'm changing the wheels and tyres for my own peace of mind( It has e marked, block pattern Dunlop gliders on Stainless steel rims at the moment)Hopefully I'll hang on to this one.I'm planning to keep it standard as it will be my daily ride.
Sorry to bore many of you that have seen these before

and sorry for adding the et 2 but I wanted to be honest